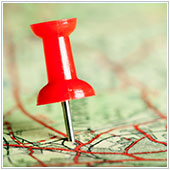 Search engines are among the most useful Internet tools out there, so useful that most users have their search engine of choice as their home page. While there are numerous engines out there, they all follow the trend of how users search. One of the more common ways people use search engines is to conduct local searches – looking for businesses or other things that are near them. This means that you should have a presence on major search engines, including Bing.
Bing is Microsoft's search engine, and one of Google's main competitors. While definitely not the most popular search engine out there, there are still users who prefer it over say Google. Like Google, Bing also employs advanced algorithms to help users find what they are looking for, and if you don't have a local presence on Bing, the chances of your business being found in search results is lower.
A great way to increase where your business shows up on Bing search results is to sign up for a Bing Places page. Bing Places is kind of similar to Google+ Local in that it gives businesses an easier way to connect with local customers. When a company has a Bing Places page, they are considered to be listed with the search engine and will be shown in results, usually ahead of other pages without a presence on Bing Places.
How to establish a presence on Bing Places If your business doesn't have a presence on Bing Places, it would be a good idea to establish one as soon as possible. Here's how you can go about doing this:
Go to the Bing Places website and click Get Started. If you have a Microsoft Account already associated with your business, press Sign In at the top-right of the window and log in to that account before you press Get Started.
Enter your business name, location and phone number, and hit Search in the window that opens.
Select Add New Business if the search returns no results. If it does, you should be able to log in with the account you used to register your business and edit the page. If you don't have a Microsoft account, you will be given the option to sign up for one – you should, as you will need it to manage your Bing Places information.
Enter as much business information as possible in the screen that pops up. You should see the map, which is located on the right, change and update itself as you enter more information. You should try to fill in every field if possible, as this will enhance the chances of your site being shown higher on search results, as it will be more relevant to what users are looking for.
Ensure that all the information is correct, especially your business's physical address, and click Submit. Bing will mail you an activation code usually within three to five business days.
Navigate back to your Bing Places page and follow the instructions to verify your business's address and information. You will be asked to enter the code provided in the mailer from Bing.
Why should my business be on Bing Places The biggest reason you should have a presence on Bing Places is that it improves your business's visibility – you can be seen by more people. This could lead to more interest, or even sales. Because Bing is one of the largest search engines in the world – third largest in the US – having a presence is a good idea, even if you don't use the service yourself.
The other big reason to have a presence is Facebook. With the recently introduced Graph Search, Facebook has noted that they will be offering search results provided by Bing to users who can't find what they are looking for within Facebook. So, even if your business isn't on Facebook, you can bet that Facebook users will be using this new feature to look for local businesses.
If you don't have a Bing Places profile, you likely won't be seen or found when users conduct searches from within Facebook. If you would like to learn more about Bing Places, or any other internet presence service, please contact us today to see how we can help.
Published with permission from TechAdvisory.org.
Source.