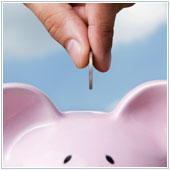 The cloud is one of the most popular tech terms of 2013, and will continue to be so for the foreseeable future. There are many different types of cloud and cloud-based service providers that offer businesses some great potential benefits. One of the most touted advantages of cloud services is that they can reduce costs, but the question is how?
Here are five ways businesses have been able to cut expenses by integrating cloud solutions.
1. Lower IT staff expenses
Because cloud services are hosted off-site, you don't need to hire or maintain an IT staff to ensure your tech systems work. This is great for small businesses, that are usually operating on a tight budget and can't afford to hire extra staff..
Combine this with an IT partner who can help run your IT systems, and you could see some great cost savings largely because you won't need your own company IT department.
2. Decreased overhead
If you host the services you use in your office, you likely spend a large amount of your IT budget on keeping your technology running. Companies that have shifted to cloud services often see the costs of running their technology reduced significantly. This is primarily because the services are hosted off-site, so they don't have to invest heavily in keeping their services running.
The main overhead businesses have with cloud services is the monthly cost of the service. Most cloud services use the pay-as-you-use model, where you pay a set fee for each user on a monthly basis. This allows for an easier time budgeting your expenses too.
3. Minimized upgrade costs
Technology is always evolving and changing and businesses are constantly struggling to keep up with the latest developments. Business owners who want or need to upgrade their existing systems find that one of the biggest barriers is the cost, which makes changes for the better not financially viable.
When businesses move to the cloud, they don't usually have to upgrade their existing systems. This reduces overall expenses in the short to medium term. Of course, if your systems aren't compatible, you will have to upgrade these too but many businesses won't find this necessary.
4. Reduced downtime
A common tech issue many small businesses face is downtime. When systems aren't working, or are working inefficiently, businesses lose money. Because the cloud is an Internet based service, a reliable Internet connection is often all you need to be up and running.
This means that costs attributed to downtime are virtually eliminated. As many providers have high levels of uptime, often higher than 99%, this makes them not only reliable but a great way to reduce lost income.
5. Reduced hardware costs
With many small businesses operating on a tight budget, purchasing extra hardware like servers and computers can be costly. For a business that wants to grow or even introduce new systems, a cloud solution, can usually cut down on the hardware needed in the office e.g, servers. This reduced need leads to reduced costs.
Many cloud services don't require top-of-the-line hardware in order to operate. This means companies can save money when they need new hardware by purchasing less expensive and more affordable machines than they might otherwise have required without the cloud.
Investing in cloud solutions has led to many companies reducing expenses and saving money. While many companies will see savings, the amount obviously differs from company to company, depending on how they are utilizing these solutions. If you are looking to reduce your costs, get in touch with us, as our services may be able you save.
Published with permission from TechAdvisory.org.
Source.