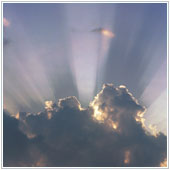 The cloud has rocketed from obscure idea to mainstream must-have in under a decade. According to a recent article on Forbes, more than 53% of businesses with 50 or fewer employees use some form of cloud solution. This number will continue to grow, likely exponentially for the foreseeable future. Chances are, you are aware of the concept of cloud but do you know the differences between the three main types of cloud?
Below is a brief overview of the three major types of cloud, sometimes referred to as 'deployments' providers offer.
Public
A public cloud is a service that uses the general Internet (what everyone has access to) to offer cloud solutions. These services can range from free to pay-per-use and can be used by anyone. For the most part, public clouds are inexpensive and provide users an easy way to access online storage and software. The major downside of this type of platform is that you don't have full control over the security of the system.
Some popular public cloud services include: Google Apps, DropBox, Amazon AWS and Microsoft SkyDrive.
Private
A private cloud uses a private network which restricts access to only those who can connect to it. Most private clouds are hosted by either a service provider, or in the organization directly. For the most part, they offer the same functionality as public clouds. Where they differ is these clouds give users full control over their data, security and compliance.
These systems are ideal if you operate in environments that require you to securely store data, or meet strict regulatory requirements – normally healthcare, legal or financial industries.
Hybrid
A Hybrid cloud system takes elements of both private and public clouds and combines them together. These solutions are usually a partnership where a vendor will have a private cloud platform which is usually specialized, and works with a public cloud provider to create one cloud.
An example of this is a vendor who offers virtualized storage solutions that are hosted at the company, e.g., active sales or customers records, while archives of these records are stored on a public cloud.
What is best for my business?
When it comes to which type of cloud you should be using in your company, the answer really depends on what you need. If you work in a highly regulated industry, it would be better to use a private or hybrid cloud. If you are just looking to store basic files or simple software, then a public cloud is likely the better choice.
We highly recommend that you contact us. As your IT partner, we can work with you to help pick a solution that works for your business and budget. So, if you are looking to move your systems to the cloud, contact us today to see how we can help.
Published with permission from TechAdvisory.org.
Source.